When you loved Jackie Chan, Bruce Lee and Jet Li, you gotta love Ip Man more and more.
Rating: 8/10
(Must Watch!)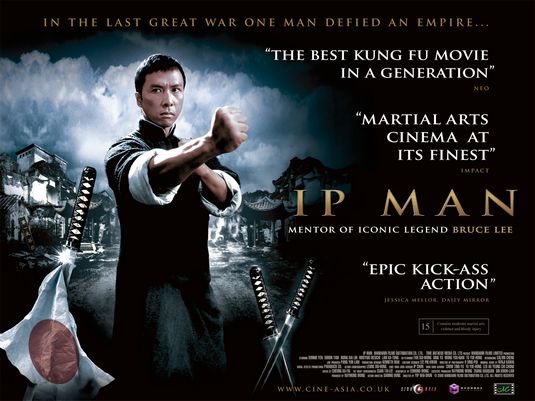 ---
Stars:              Donnie Yen, Simon Yam, Siu-Wong Fan
Director:         Wilson Yip
Writer:             Edmond Wong
Synopsis:
In 1935 in Foshan, south China, there are martial arts schools on every street corner. Ip Man is the undisputed martial arts champion, yet he has not devoted himself to teaching. Despite this, it seems that all the kung fu masters of the city are eager to fight him to improve their reputation.
From IMDB.com
---
The story is developed so good, that it will ignite your anger hormones and just be so angry with the antagonists, you would want to crush them yourselves. The enemies acted just so vile and spiteful, you may want to WingChun smash their being.
And I won't be exaggerating when I tell you that I wanted to be the greatest martial artist after watching this film. I am not even lying that I wanted to be so good in this art that I would want to be a war hero of the Philippines and defend my beloved country as Ip Man did. Yes, this movie is that good.
Also, this is as thrilling as it can be. It will really make you so nervous and afraid of what may happen next, will his wife get raped? Will his kid be killed? Will he get killed?
This film, therefore, is a movie full of emotion. Full of emotion, that it will grab yours. It will drive you into a state of which you think you, yourself, is part of the movie and part of the history. 
You know, the greatest thing about this movie is that it is based on a true story. Never thought that people like this would have existed. Man, I so love and respect early people, for they can be honorable as this.
This movie is a very different point of view in Chinese Martial Arts. It developed my respect. For this movie, I shall lay the red carpet and sound the trumpets and let it hoist the trophy for the greatest martial arts film.
tomzapanta likes this
thecoffeebean reblogged this from afilmandacup
afilmandacup posted this